Saturday August 11th, 2018 in
Reviews
Listening to Max Gowan's Exit Line EP
In the interest of providing a better read, I'll be writing a more traditional review for this wonderful new extended play from Max Gowan.
You might know Max from his album, Far Corners reissued on Z Tapes in 2017 (a stand-out in the massive Z Tapes catalog).
The way I'd characterize Gowan's music is colorfully melodic and precise in its control of how percussion melds with twang. Down to delivery of vocals, Gowan is clearly a rhythmic-timing master. When a song is tight, you can tell because it just rides on your brain waves — no processing required. Exit Line, four tracks that, according to the EP's Bandcamp, did not fit with an upcoming LP, is a charming brain-wave pleaser.
"w in my eyes, wishing bone", Gowan sings as the EP opens with Wishing Bone. The track rides on a punchy kick and shaker, airy acoustic guitar strums, and intermittent chorus-doused electric leads. I don't know what's more intoxicating; its bass line or the melodic range of Gowan's voice. Either way, if Bandcamp New and Notable doesn't immediately scoop this EP up from the starting track, they need to!
Now, we're at Time Waits Patient, a song which uses Brandon Breazeale's voice memo-recorded drums. Impressive, especially considering how lofi a voice memo can sound. To me, the drums are reminiscent of Death Cab For Cutie — I love the rolling feel of the rhythm.
Twist, a shining example of how tight bass and drums can be in Max Gowan's music, has tasteful stereo-moving (octave-up?) guitar. And guess who's on backup vocals? Yup, you guessed it! Tim Brozowski who recently released happy summer as computer science.
"broke in the backbone, somebody get one, I've been throwing you a line, I'm gonna pull it back like the rest have, then we'll see if you can fly". By the end of Blue Kite, I am left wanting this EP to be an LP. But then again, these four songs pack quite a satisfying punch on their own.
Thank you, Max Gowan, for the early preview of your EP and for providing so much detail in the credits section of your Bandcamp page. I always appreciate reading about how albums are made. I'm looking forward to hearing your next release!
Below you can listen to Exit Line yourself, and don't forget that if you're listening on Spotify, it's important to add the music to playlists, share it, etc., to give Max's music proper attention!:
Cassettes!!
Cassette Tapes are available via Temporary Enjoyment, here!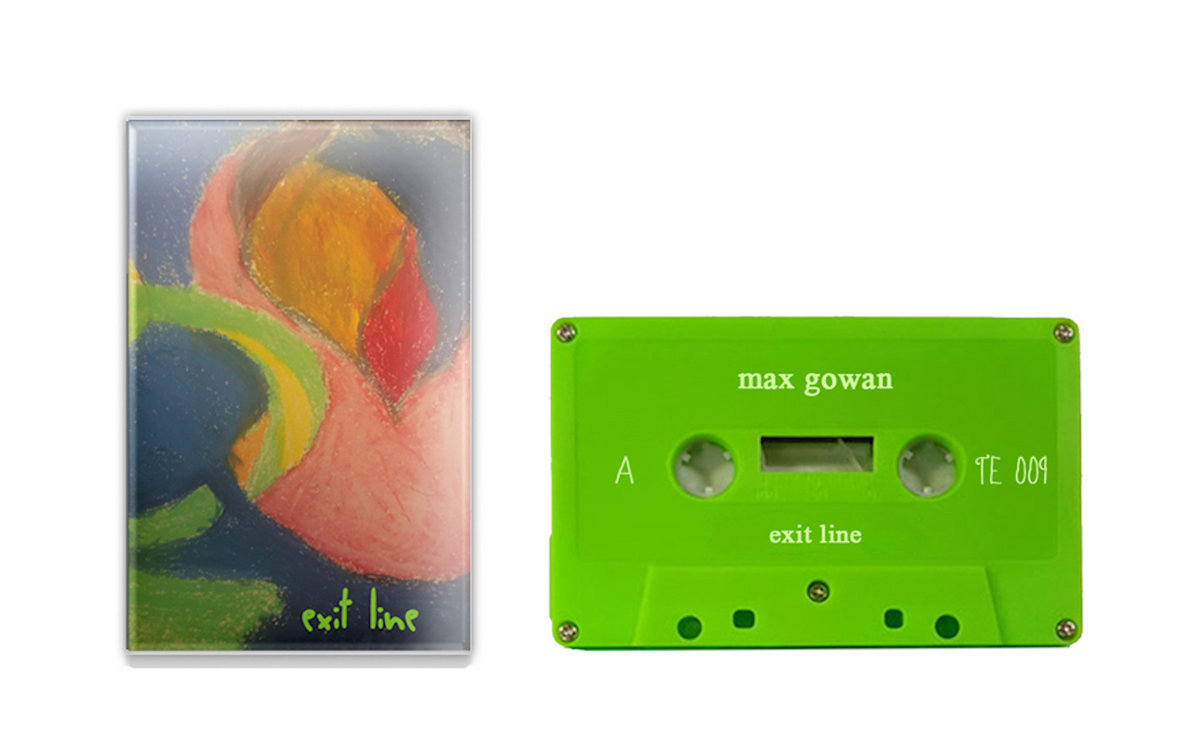 Thanks for reading! - Noise Haven